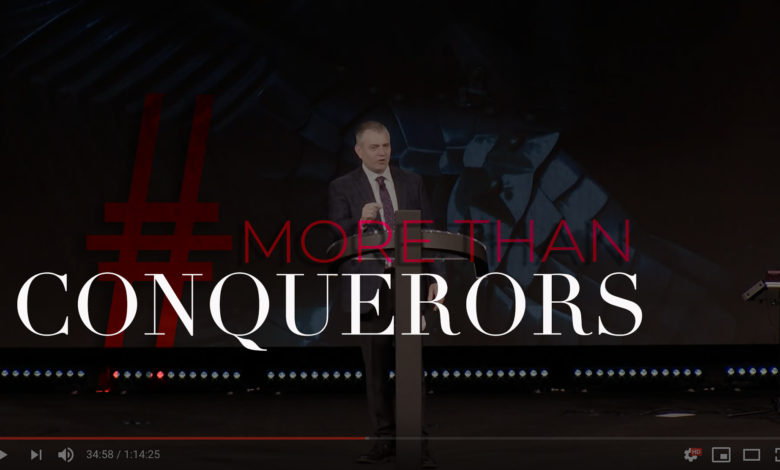 #MORETHANCONQUERORS
---
Join us as we enter into praise & worship and hear an encouraging message from Pastor Paul Jones on being #morethanconquerors. In our current climate of uncertainty we don't have to live in a spirit of fear. We can live in a place of peace in who God is and live as conquerors!
Sermon Scriptures:
1 John 5:4-5 (ESV) 4 For everyone who has been born of God overcomes the world. And this is the victory that has overcome the world—our faith. 5 Who is it that overcomes the world except the one who believes that Jesus is the Son of God?
2 Corinthians 10:3-4 (NKJV) 3 For though we walk in the flesh, we do not war according to the flesh. 4 For the weapons of our warfare are not carnal but mighty in God for pulling down strongholds,
1 Timothy 6:12 (NKJV) 12 Fight the good fight of faith, lay hold on eternal life, to which you were also called and have confessed the good confession in the presence of many witnesses.
1 Peter 5:8 (NIV) 8 Be alert and of sober mind. Your enemy the devil prowls around like a roaring lion looking for someone to devour.
James 4:7-8 (NIV) 7 Submit yourselves, then, to God. Resist the devil, and he will flee from you. 8 Come near to God and he will come near to you. Wash your hands, you sinners, and purify your hearts, you double-minded.
Proverbs 23:7  7 For as he thinks in his heart, so is he….
Romans 12:2 (NIV) 2 Do not conform to the pattern of this world, but be transformed by the renewing of your mind. Then you will be able to test and approve what God's will is—his good, pleasing and perfect will.
2 Corinthians 10:5 (ESV) 5 We destroy arguments and every lofty opinion raised against the knowledge of God, and take every thought captive to obey Christ,
Deuteronomy 20:1 (NASB) 1 "When you go out to battle against your enemies and see horses and chariots and people more numerous than you, do not be afraid of them; for the Lord your God, who brought you up from the land of Egypt, is with you.
Deuteronomy 20:3 (NASB) 3 He shall say to them, 'Hear, O Israel, you are approaching the battle against your enemies today. Do not be fainthearted. Do not be afraid, or panic, or tremble before them,
Deuteronomy 20:8 (NASB) 8 Then the officers shall speak further to the people and say, 'Who is the man that is afraid and fainthearted? Let him depart and return to his house, so that he might not make his brothers' hearts melt like his heart.'
Romans 8:37 (ESV) 37 …in all these things we are more than conquerors through him who loved us.